The Implementation of Learning of Islamic Characters in Ma'had Al-Jami'ah IAIN Samarinda, Indonesia
Abstract
Indonesia is currently facing degradation of character marked by deviations of norms that are social and religious. Ma'had Al-Jami'ah is responsible for improving the character and create who are intellectually religious. This study aims to find out the implementation of learning of Islamic characters in Ma'had Al-Jami'ah IAIN Samarinda. This research used descriptive qualitative and collected data by interviews, observation, and documentation. The results showed that Text learning in religious activities still uses classical models in large numbers, so text learning has not achieved maximum results. Moreover, Islamic learning activities are still limited to translating and have not yet achieved scientific activities following university students' capacity. The learning implementation of Islamic character has been successful in three Islamic scopes, both in ḥabl minallāh, min al-nās, and min al-'ālam. Although ḥabl minallāh has not reached the level of maḥabbah, the learning process has trained students to worship and become obedient servants. Concerning the various learning activities and processes available, ḥabl min al-nās have become the most dominant scope, especially in attitude (adab) and empathy. Meanwhile, ḥabl min al-'ālam is only limited to cleaning activities and has not reached the stage of iḥsan comprehension.
Keywords
Ma'had Al-Jami'ah; Islamic characters; learning
References
A. Koesoma, Doni. Pendidikan Karakter: Strategi Mendidik Anak Di Zaman Global. Jakarta: Grasindo, 2018.
Abi, Antonius Remigius. "Paradigma Membangun Generas Emas Indonesia Tahun 2045." JIPPK 2 (2015).
Al Hamdani, Djaswidi. "The Character Education in Islamic Education Viewpoint." Jurnal Pendidikan Islam 1, no. 1 (2016).
Al-Hujran, Omar, Mutaz M. Al-Debei, Akemi Chatfield, and Mahmoud Migdadi. "The Imperative Of Influencing Citizen Attitude Toward E-Government Adoption And Use." Computers in Human Behavior 53 (December 2015): 189–203.
Al-Isra, Andi Batar. "Hablummin al-nās: Nilai-Nilai Keislaman dan Praktiknya dalam Pergaulan Antar Ikhwan dan Akhwat pada Organisasi Forum Lingkar Pena Makassar." ETNOSIA: Jurnal Etnografi Indonesia 1, no. 2 (2016).
Amin, A. Rifqi. Sistem Pembelajaran Pendidikan Agama Islam Pada Perguruan Tinggi,. Yogyakarta: Deepublish, 2014.
Amirudin. "Peningkatan Menulis Argumentatif Melalui Model Ḥalaqah." Al-Ta'dib 9, no. 1 (2016).
Arialdi, Agus. "Strategi Pengelolaan Ma'had Al-Jami'ah dalam Meningkatkan Pendidikan Karakter Mahasiswa di UIN Ar-Raniry Darussalam." Universitas Islam Negeri Ar-Raniry, 2019.
Boersema, Jan, Andrew Blowers, and Adrian Martin. "The Religion-Environment Connection." Environmental Sciences 5, no. 4 (December 2008): 217–221.
Cahyono, Guntur. "Pendidikan Karakter Perspektif Al Qur'an Dan Hadits." AL-ASTAR, Jurnal Ahwal al-Syahsiyah dan Tarbiyah STAI Mempawah V, no. 1 (2017).
Chapfika, Blessing. "The Role Of Integrity In Higher Education." IJEI: International Journal for Educational Integrity 4, no. 1 (2008).
Ekhsan, Moch. Kiai Kelana: Biografi Kiai Muchid Muzadi. Yogyakarta: LKIS Pelangi Aksara, 2020.
Estika, Rini. "Pelaksanaan Pembinaan Keagamaan Mahasiswa Di Ma'had al - Jami'ah Putri IAIN Palangka Raya" (2017).
Fathurrohman, M. "Pengembangan Budaya Religius Dalam Meningkatkan Mutu Pendidikan." Ta'allum 4, no. 1 (2016).
Fauti, Subhan. "Konsep Pendidikan Islam Masa Kini." Jurnal Pendidikan Agama Islam 8, no. 2 (2013).
Firdaus, Anis Husni. "Konseptualisasi Sistem Pendidikan Akhlak Menurut Alquran dan Hadis." Raheema 2, no. 2 (2015). http://jurnaliainpontianak.or.id/index.php/raheema/article/view/534.
Hajriansyah, Hajriansyah. "Akhlak Terpuji Dan Yang Tercela: Telaah Singkat Ihya' Ulumuddin Jilid III." NALAR: Jurnal Peradaban dan Pemikiran Islam 1, no. 1 (July 29, 2017). http://e-journal.iain-palangkaraya.ac.id/index.php/nalar/article/view/899.
Hakim, Nurul. "Peran Pondok Pesantren Dalam Membina Toleransi Kerukunan Antar Umat Beragama." Universitas Islam Negeri Walisongo, 2015.
Halstead, J. Mark. "Islamic Values: A Distinctive Framework for Moral Education?" Journal of Moral Education 36, no. 3 (2007).
Hamdi, Asep Saipul. Dasar-Dasar Agama Islam. Yogyakarta: Deepublish, 2016.
Iswati. "Transformasi Pendidikan Agama Islam Dalam Membangun Nilai Karakter Peserta Didik Yang Humanis Religius." Al-I'tibar 3, no. 1 (2017).
Jannah, Miftakhul. "Studi Komparasi Akhlak Terhadap Sesama Manusia Antara Siswa Fullday School Dengan Siswa Boarding School di Kelas XI SMA IT Abu Bakar Yogyakarta." Jurnal Pendidikan Agama Islam Al-Thariqah 3, no. 2 (November 15, 2018): 1–15.
Julijanto, Muhammad. Agama Agenda Demokrasi Dan Perubahan Sosial. Yogyakarta: Deepublish, 2015.
Jumaeda, Siti. "Ma'had Al-Jamiah di Institut Agama Islam Negeri." al-Iltizam 2, no. 1 (2017).
Kaimuddin. "Implementasi Pendidikan Karakter Dalam Kurikulum 2013." Dinamika Ilmu 14, no. 1 (2014): 47–64.
Kholidah, Lilik Nur. "Pola Integrasi Nilai-Nilai Keislaman Dalam Pembelajaran Pendidikan Agama Islam Pada Lembaga Pendidikan." Ta'dib 10, no. 2 (2015).
Lince, Ranak. "Strategi Peningkatan Profesionalisme Guru Dalam Menghadapi Tantangan Di Era Digital." Prosiding Temu Ilmiah Nasional Guru (TING) VIII (2016).
Muhdar, HM. "Pendidikan Karakter Menuju SDM Paripurna." Al-Ulum 13, no. 1 (2013): 103–128.
Mujiburrahman. "Dimensi Agama Dalam Pembangunan Negara (Kajian Transformasi Pendidikan Islam Di Indonesia." Jurnal Ilmiah DIDAKTIKA: Media Ilmiah Pendidikan dan Pengajaran 18, no. 2 (February 1, 2018): 189–204.
Na'imah. "Islamic Character Education Management in Developing the Emphaty Values for Students of State Islamic University of Sunan Kalijaga Yogyakarta." Dinamika Ilmu: Jurnal Pendidikan 18, no. 2 (2018).
Nasrullah. "Pembentukan Karakter Siswa Melalui Pendidikan Agama Islam." Salam (2015): 67–82.
Nugroho, Puspo. "Internalisasi Nilai-Nilai Karakter Dan Kepribadian Mahasiswa Pendidikan Agama Islam Melalui Pendekatan Humanis-Religius." Edukasia: Jurnal Penelitian Pendidikan Islam 12, no. 2 (2017): 355–382.
Rofi'ah, Nurul Hidayati. "Desain Pengembangan Pembelajaran Akidah Akhlak Di Perguruan Tinggi." Fenomena 8, no. 1 (2016).
Rudini. "Aktualisasi Nilai-Nilai Islam Dalam Pembentukan Karakter Mahasiswa Di Pondok Pesantren Nurul Ummah Kota Gede Yogyakarta" (2016).
Ruslan, Idrus. "Islam Dan Radikalisme: Upaya Antisipasi Dan Penanggulangannya." KALAM 9, no. 2 (December 30, 2015): 215–232.
Saifullah. "Etos Kerja Dalam Perspektif Islam." Sosial Humaniora 3, no. 1 (2010): 54–69.
Setiawan, Adib Rifqi, and Maryam Musfiroh. Pendidikan Karakter: Akhlak, Adab, Moral dan Nilai. Preprint. INA-Rxiv, March 21, 2019. https://osf.io/x8syc.
Sirait, Sangkot. "Moderate Muslim: Mapping the Ideology of Mass Islamic Organizations in Indonesia." Journal of Islamic Studies and Culture 4, no. 1 (2016). Accessed January 29, 2021.
http://jiscnet.com/vol-4-no-1-june-2016-abstract-14-jisc.
Sukardi, Ismail. "Character Education Based on Religious Values : An Islamic Perspective" 21, no. 1 (2016): 41–58.
Syukron, Buyung. "Paradigma Implementasi Konsep Revolusi Mental (Studi Analisis Dalam Perspektif Lembaga Pendidikan Islam)." Elementary 2 (2016).
Yuliani, Nelpa Fitri. "Hubungan Antara Lingkungan Sosial Dengan Motivasi Belajar Santri Di Pesantren Madinatul Ilmi Islamiyah." Spektrum: Jurnal Pendidikan Luar Sekolah (PLS) 1, no. 2 (July 18, 2013). http://ejournal.unp.ac.id/index.php/pnfi/article/view/2428.
Yunianta, Tri Nova Hasti. "Developing Creativity and Professional Attitude of Mathematic Student Teachers in Microteaching Subject." Scholaria: Jurnal Pendidikan dan Kebudayaan 8, no. 1 (January 16, 2018): 51–60.
DOI:
http://dx.doi.org/10.22373/jie.v4i1.8963
This work is licensed under a
Creative Commons Attribution-ShareAlike 4.0 International License
.
Welcome to DAYAH: Journal of Islamic Education open journal system. Thank you very much for visiting. We are looking forward to getting your articles
DAYAH: Journal of Islamic Education

All works are licensed under CC BY-SA
© DAYAH: Journal of Islamic Education 2019. Published by Center for Research and Community Service (LP2M) in cooperation with Master's Degree of the Department of Islamic Education, Postgraduate Program of Universitas Islam Negeri (UIN) Ar-Raniry Banda Aceh, Aceh, Indonesia.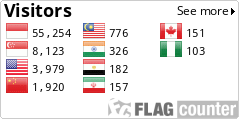 Indexed by:
Supported by: