Circuit : Jurnal Ilmiah Pendidikan Teknik Elektro is a double-blind peer-reviewed journal published by Electrical Engineering Education, Education and Teacher Training Faculty, Universitas Islam Negeri Ar-Raniry, Banda Aceh, Indonesia. The journal publishes research articles, conceptual articles, and book reviews of Electrical and Engineering Education (see Focus and Scope). The articles of this journal are published twice a year; February and August.
From the beginning of its publication in 2017, Circuit has been registered with Crossref. All articles published by Circuit have a DOI number. Circuit is also indexed by Google Scholar, Garuda, Moraref, BASE, and more indexing please go here. 
In 2021, Circuit has been accredited by the Decree of the General Director of Strengthening Research and Development, Ministry of Research, Technology, and Higher Education of the Republic of Indonesia Number : 164/E/KPT/2021 (Sinta 4).
Journal Secretariat: Building A, Electrical and Engineering Education Department, Tarbiyah and Teaching Learning Faculty, Universitas Islam Negeri Ar-Raniry Banda Aceh, Indonesia.
Road: Syeikh Abul Rauf Kopelma Darussalam Banda Aceh, Indonesia, Postal Code 23111.
Email: jurnal.circuit@ar-raniry.ac.id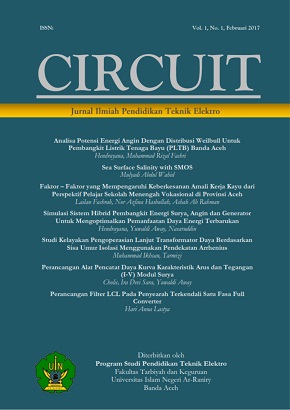 Announcements
New Article's Written Policy

We are pleased to announce the authors, who interested to submit the article into CIRCUIT, Please prepare your article into english written. See the Journal Online Submission for paper detailed. 

Regards,

Editor in Chief CIRCUIT

Posted: 2023-05-09

ACCREDITATION

We are  proudly and pleased to inform you that the CIRCUIT: Jurnal Ilmiah Pendidikan Teknik Elektro has been ACCREDITED of SINTA 4  by the Ministry of Research and Technology/ National Agency for Research and Innovation, Republic of Indonesia (Decree No. 164/E/KPT/2021)

Thank you for the attention and cooperation of all the authors and reviewers of the journal. Best Wish of the Circuit will become a high quality journal with national and international reputation.

Regards,

Editor in Chief CIRCUIT

Posted: 2022-01-29
Vol 7, No 2 (2023)
Table of Contents
Articles
| | | |
| --- | --- | --- |
| | Resa Pramudita, Ibrohim Ibrohim, Yoyo Somantri, Muhammad Adli Rizqulloh, Roer Eka Pawinanto, Maman Somantri | 117-131 |
| | | |
| --- | --- | --- |
| | Fauzi Sahlan Rizki Sinaga, Muhammad Daud, Misbahul Jannah, Rosdiana Rosdiana | 132-141 |
| | | |
| --- | --- | --- |
| | Riya Mustikasari, Muhammad Jazuli Shubhi, Langlang Gumilar, Sujito Sujito, Aripriharta Aripriharta | 142-153 |
| | | |
| --- | --- | --- |
| | Kurniawan Kurniawan, Sri Wahyuni, Mursyidin Mursyidin | 154-163 |
| | | |
| --- | --- | --- |
| | Larasati Putri Hapsari, Roberto Patar Pasaribu, Ika Anjani | 164-172 |
| | | |
| --- | --- | --- |
| | Muhammad Rizal Fachri, Malahayati Malahayati, Muhammad Zaki Fuadi | 173-181 |
| | | |
| --- | --- | --- |
| | Charis Fathul Hadi, Untung Suryadhianto | 182-188 |
| | | |
| --- | --- | --- |
| | Habib Alhaq, Esa Apriaskar, Djuniadi Djuniadi | 189-194 |
| | | |
| --- | --- | --- |
| | Rosliana Eso, La Ode Safiuddin, Asih Nofriasih Kalam | 195-203 |