Jurnal Ilmiah Islam Futura (JIIF) (P-ISSN: 1412-1190; E-ISSN: 2407-7542) is published by the Graduate Program of State Islamic University (UIN) Ar-Raniry Banda Aceh, since 2001. It focuses on the development of Islamic Studies (Dirasah Islamiyah) which done through library research, or field research. The publication of this academic journal is intended to to enrich Islamic sciences that have been developing in the present.The first address of online version of JIIF is www.islamfutura.org. However, since UIN Ar-Raniry had a new policy to unite all journals under one roof in this institution, JIIF changed the online version address to: http://jurnal.ar-raniry.ac.id/index.php/islamfutura started from 2016.
Jurnal Ilmiah Islam Futura also has become a CrossRef Member since the year 2016. Therefore, all articles published by Jurnal Ilmiah Islam Futura will have unique DOI number. Jurnal Ilmiah Islam Futura is currently indexed and/or included in: Crossreff, Google Scholar, IPI, Moraref, OAJI, WorlCat, Mendeley, DRJI, BASE, etc.
Office address: Lt. 2 Gedung Pascasarjana Universitas Islam Negeri Ar-Raniry Darussalam, Banda Aceh, Aceh, Indonesia 23111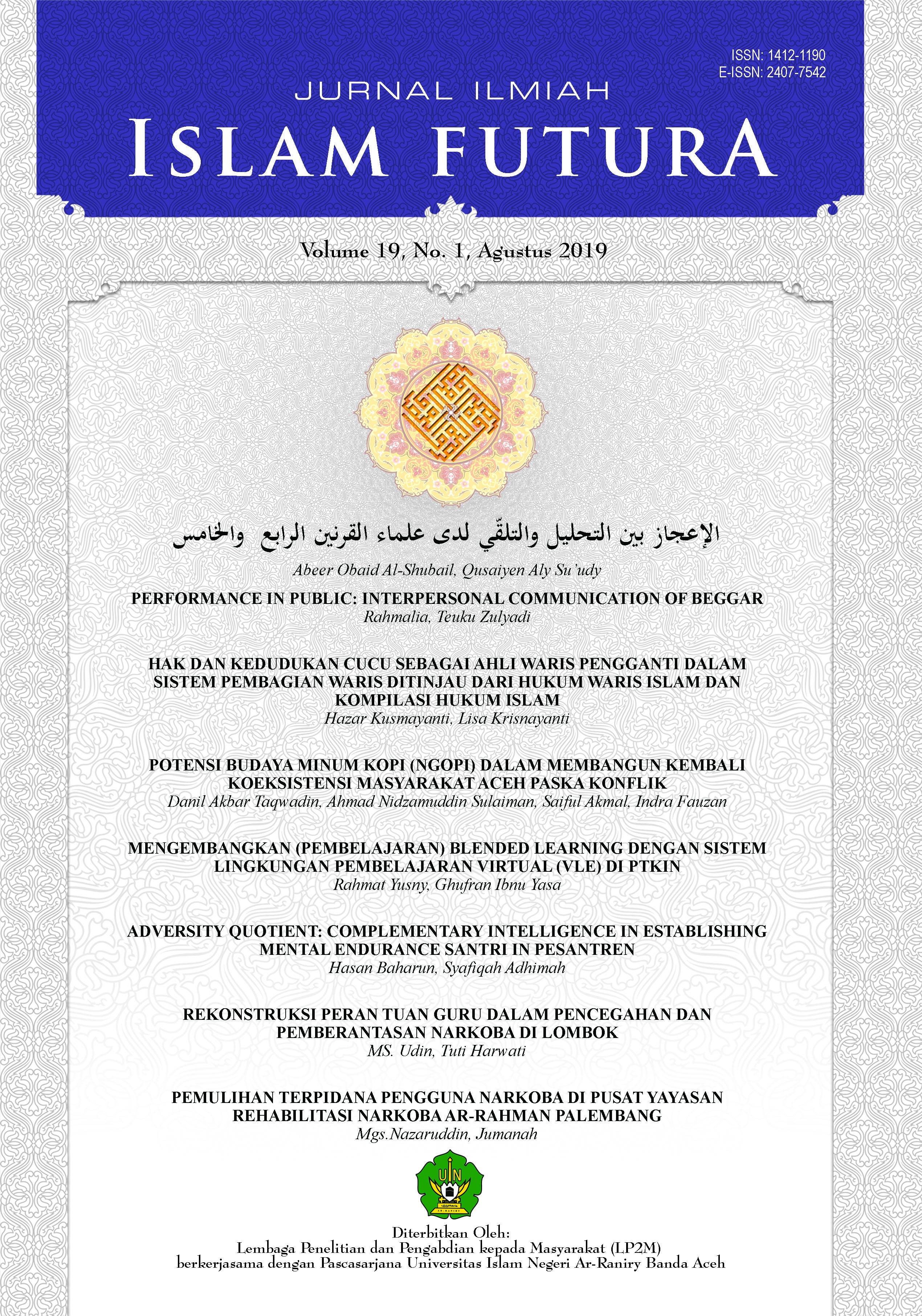 NOTES FOR AUTHORS AND POTENTIAL REVIEWERS
Before submitting your manuscript (as author), or if you want to propose voluntarily as a reviewer (that willing to conduct peer review of submissions to the journal), it is required to register for membership account here . If you have any difficulties to proceed, please do not hesitate to send your questions and/or inquiries to islamfutura@ar-raniry.ac.id.
JIIF invites scholars to submit research articles related to: (1) Islamic theology; (2) Islamic law; (3) Islamic education; (4) Islamic mysticism; (5) Islamic philosophy; (6) Study of tafsir and hadith; (7) Islamic art and history. The articles will be published twice a year (February and August).
Announcements
No announcements have been published.
Vol 15, No 2 (2016): Jurnal Ilmiah Islam Futura
Table of Contents
Artikel
| | | |
| --- | --- | --- |
| | Arfiansyah Arfiansyah, Muhammad Riza | 177-212 |
| | | |
| --- | --- | --- |
| | Safrizal Safrizal | 231-250 |
| | | |
| --- | --- | --- |
| | Muhammad Arifin, Khadijah Binti Mohd Khambali @ Hambali | 251-284 |
| | | |
| --- | --- | --- |
| | Safriadi Safriadi | 285-303 |