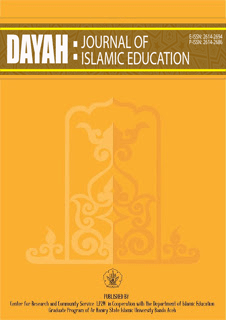 DAYAH: Journal of Islamic Education invites scholars and researchers to submit research articles on Islamic education issues to be published in January and July every year. The manuscripts will be processed through several steps according to DAYAH: Journal of Islamic Education's systems and regulations. This journal does not charge fees for any submission, article processing (APCs), and publication of the selected reviewed manuscripts. Journal subscription is also open to any individual or institution without any subscription charges. All published manuscripts will be available for viewing and download from the journal portal for free.
Announcements
No announcements have been published.
2022: Article in Press
All Accepted manuscripts/articles are pre-published temporarily in "Article In Press of DAYAH: Journal of Islamic Education 2022" and are not assigned to volume/issue number yet. That means all articles in this pre-issue are waiting for formal publication in the next issue. Please be noted that DOI numbers in this In-Press issue are not registered yet.
Table of Contents
Articles
| | | |
| --- | --- | --- |
| | Robab Piri, Sadegh Maleki Avarsin | xxx-xxx |
| | | |
| --- | --- | --- |
| | Evita Nur Apriliana, Ulya Barokati Tamami, Agus Sutiyono | xxx-xxx |
| | | |
| --- | --- | --- |
| | Afra Nadila, Lailatussaadah Lailatussaadah, Muhammad faisal | xxx-xxx |