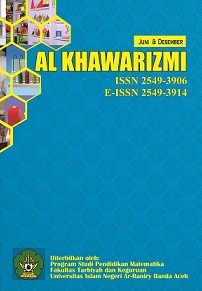 P-ISSN: 2549-3906
E-ISSN: 2549-3914
Al Khawarizmi: Jurnal Pendidikan dan Pembelajaran Matematika is a peer-reviewed and open-access academic journal for researchers, practitioners and teacher educators, and students of mathematics education, published twice a year (June and December).
Al Khawarizmi: Jurnal Pendidikan dan Pembelajaran Matematika welcomes any paper on mathematics education and instruction that reports relevant classroom research evaluates and reports practices in teacher education, reviews topical problems and reports successes in mathematics education and instruction. The journal provides a forum for sharing, dissemination, and discussion of research, experience, and perspectives across a wide range of education, teaching, development, instruction, educational projects and innovations, learning methodologies, and new technologies in mathematics education for authors and readers worldwide.
This journal has been accredited and effective from Vol. 3 No. 1 (2019), based on the Decree of the Director General of Higher Education, Research and Technology, Ministry of Education, Research and Technology of the Republic of Indonesia, Number 164/E/KPT/2021.
Published by:
Department of Mathematics Education, Faculty of Education and Teacher Training, Universitas Islam Negeri Ar-Raniry Banda Aceh, 23111. 
Email:
jurnal.alkhawarizmi@ar-raniry.ac.id
Announcements
No announcements have been published.
Vol 7, No 1 (2023): Al Khawarizmi: Jurnal Pendidikan dan Pembelajaran Matematika
Table of Contents
| | | |
| --- | --- | --- |
| | Bernika Indrialis Ifana, Zulkardi Zulkardi, Ely Susanti | 1-9 |
| | | |
| --- | --- | --- |
| | Fevi Rahmadeni, Anisya Septiana, Syaripah Syaripah | 10-25 |
| | | |
| --- | --- | --- |
| | Ainun Jariyah, Zulkardi Zulkardi, Ely Susanti | 26-35 |
| | | |
| --- | --- | --- |
| | Ridha Yuniara, Saminan Saminan, Zainal Abidin, Rahmah Johar | 36-47 |
| | | |
| --- | --- | --- |
| | Nastiti Khairun Nisa, Sintha Sih Dewanti | 48-61 |
| | | |
| --- | --- | --- |
| | Darwani Darwani, Zainal Abidin, Rahmayuni Hardisa | 62-73 |