Religious development and child personality: What does religious psychology say about them?
Abstract
This research aims to reveal how religious guidance in the formation of Islamic personality in children is seen from the study of religious psychology. Basically, personality and religious development in childhood is the responsibility of parents at home and teachers at school. So that the development can run as it should and can produce the expected results, it should be in an effort to foster the personality and religion of a child adjusted to his religious nature and religious development that is being passed. The research method used in this research is library research. By using descriptive analysis methods by collecting data, compiling or classifying, analyzing, and interpreting it. The results showed that the period of children is the beginning of religious coaching and personality. If the child's personal development is carried out properly, then in adolescence will not have difficulty in building his personality. Conversely, if the child fares poorly, where personal coaching in his family is not carried out properly and in school is less helpful, then he will face a difficult adolescence and his personal coaching will be very difficult.  
Keywords
Religious development; personality; child
References
Abdullah, A. (2018). Kemitraan guru pendidikan agama Islam dan orang tua dalam pembinaan keagamaan siswa. Kalam: Jurnal Agama Dan Sosial Humaniora, 6(2).
Asir, A. (2014). Agama dan fungsinya dalam kehidupan umat manusia. Al-Ulum Jurnal Pemikiran Dan Penelitian Ke Islaman, 1(1), 50–58.
Bariyah, S. K. (2019). Peran tripusat pendidikan dalam membentuk kepribadian anak. Jurnal Kependidikan, 7(2), 228–239.
Bawani, I. (1990). Ilmu jiwa perkembangan: Dalam konteks pendidikan Islam. Bina Ilmu.
Boyatzis, C. J. (2005). Religious and spiritual development in childhood. Handbook of the Psychology of Religion and Spirituality, 123–143.
Busra, A. (2019). Peranan orang tua terhadap pembinaan akhlak anak. AL-WARDAH: Jurnal Kajian Perempuan, Gender Dan Agama, 12(2), 123–130.
Danandjaja, J. (2014). Metode penelitian kepustakaan. Antropologi Indonesia.
Hamzah, A. (2020). Metode penelitian kepustakaan library research edisi revisi. Malang: Listerasi Nusantara.
Hidayat, R., & Khomsiyati, S. (2020). Pengembangan aspek keagamaan anak usia dini. Azzahra: Jurnal Pendidikan Anak Usia Dini, 1(2), 59–72.
Hurlock, E. B. (2001). Developmental psychology. Tata McGraw-Hill Education.
Khadijah, K. (2016). Pengembangan keagamaan anak usia dini. Jurnal Raudhah, 4(1).
Khusni, M. F. (2018). Fase perkembangan anak dan pola pembinaannya dalam perspektif Islam. Martabat: Jurnal Perempuan Dan Anak, 2(2), 361–382.
Komariah, C., Uwes, S., Drajat, M., & Tabroni, I. (2021). Peran orang tua dalam pembinaan akhlak anak melalui media internet. Jurnal Ilmiah Edukatif, 7(1), 25–36.
Kurniawan, A. T. (2017). Perkembangan jiwa agama pada anak. Elementary: Jurnal Ilmiah Pendidikan Dasar, 1(1), 69–80.
Masduki, Y., & Warsah, I. (2020). Psikologi agama. Tunas Gemilang Press.
Mubarak, A. Z. (2017). Perkembangan jiwa agama. ITTIHAD, 12(22), 91–106.
Munirah, M., & Ladiku, N. (2019). Pengembangan sikap keberagamaan peserta didik. Jurnal Ilmiah AL-Jauhari: Jurnal Studi Islam Dan Interdisipliner, 4(2), 336–348.
Nurfaizah, N., & Rahman, M. H. (2020). Inovasi pengembangan nilai-nilai agama pada anak usia dini. Qurroti: Jurnal Pendidikan Islam Anak Usia Dini, 2(2).
Otto, A. (2013). Saving in childhood and adolescence: Insights from developmental psychology. Economics of Education Review, 33, 8–18.
Rakhmat, J. (2013). Psikologi agama: Sebuah pengantar. Mizan Pustaka.
Ristianah, N. (2017). Tarbiyah Al-Aulad Fi Al-Islam Perspektif Abdullah Nashih Ulwan. Intizam, Jurnal Manajemen Pendidikan Islam, 1(1), 23–34.
Sada, H. J. (2016). Manusia dalam perspsektif agama Islam. Al-Tadzkiyyah: Jurnal Pendidikan Islam, 7(1), 129–142.
Sadari, S. (2019). Metode pendidikan keberagamaan di lingkungan keluarga. Alim| Journal of Islamic Education, 1(1), 1–20.
Setiyowati, E. (2020). Pembentukan kepribadian islami pada anak usia dini. Al-Mabsut: Jurnal Studi Islam Dan Sosial, 14(2), 157–165.
Shaffer, D. R. (1996). Developmental psychology: Childhood and adolescence. Thomson Brooks/Cole Publishing Co.
Sudirman, S. (2021). Pentingnya Ilmu Jiwa Agama dalam kehidupan (Tinjauan: Teori dan konsep Ilmu Jiwa). SCHOLASTICA: Jurnal Pendidikan Dan Kebudayaan, 3(1), 1–10.
Sunardin, S. (2021). Manusia membutuhkan agama di masyarakat. Misykat Al-Anwar Jurnal Kajian Islam Dan Masyarakat, 4(1), 1–18.
Sururin, S. (2004). Konsep pendidikan KH Hasyim Asy'ari: Telaah terhadap kitab'Adab Ta'lim Wa Muta'allim'. EDUKASI: Jurnal Penelitian Pendidikan Agama Dan Keagamaan.
Sutarto, S. (2018). Pengembangan sikap keberagamaan peserta didik. Islamic Counseling: Jurnal Bimbingan Dan Konseling Islam, 2(1), 21–42.
Syafri, F. (2018). Memahami perkembangan psikologi keagamaan anak usia dini. Al Fitrah: Journal Of Early Childhood Islamic Education, 2(1), 242–250.
Tumanggor, R. (2016). Ilmu jiwa agama. Prenada Media.
Ulwan, A. N. (1994). Tarbiyah al-Aulad fi al-Islam. Dar al-Salam.
DOI:
http://dx.doi.org/10.22373/equality.v8i1.12767
Refbacks
There are currently no refbacks.
Copyright (c) 2022 Salmi Wati, Rezki Amelia, Hidayatina Hidayatina, Gusmirawati Gusmirawati
This work is licensed under a
Creative Commons Attribution-ShareAlike 4.0 International License
.
Indexed By :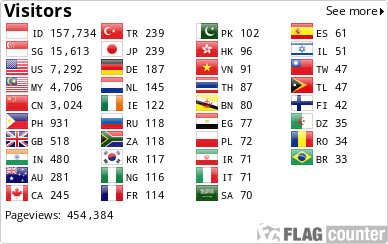 UNIQUE VISITS
Gender Equality: International Journal of Child and Gender Studies is licensed under a Creative Commons Attribution-ShareAlike 4.0 International License.