NARASI HEROISME PEREMPUAN DALAM ISU LINGKUNGAN (Analisis Framing Berita Farwiza Farhan di Media Daring Lokal dan Nasional)
Abstract
Environmental discourse is considered as one of the essential narratives since it involves the role of women. In the gender perspective, women in environmental issues are often described as a sidekick. Farwiza Farhan is one of the environmentalists who contributes to the environmental campaign effort. The study aims to focus on the framing of Farwiza Farhan's figure against her contribution as the keeper of the Leuser Ecosystem (KEL) on online media environmental reports. This study used the Framing Analysis approach, Environmental Journalism, and Heroism concept. The researchers chose and analyzed three news from online news media: serambinews. com as a local source; and republika. co. id and bbc. com as national sources. This research was analyzed by using Zhongdang Pan and Gerald M. Kosicki's Framing Analysis method. The finding shows that the news media frames Farwiza Farhan as an environmental activist with a heroism narrative. Farwiza is portrayed as a heroic, selfless, courageous, and intelligent personality. She is adaptive and determined to deal with conflict, and she also has initiative and leadership. Heroism is perceived as an environmental perspective-journalism strategy of online news media to deliver environmental knowledge and to raise public awareness towards the environmental issue.
Keywords
Women, Environment, Online News Media
References
Ardani, P. I. (2016). Konstruksi Media terhadap Sosok Legislator Perempuan (Analisis Framing Pemberitaan mengenai Peran Legislator Perempuan DPR RI periode 2009–2014 pada Harian Kompas). SkripsiUniversitas Diponegoro, Semarang
Burnama, G, dkk. (2014). Stereotyping Risma: Pembingkaian Sosok Tri Rismaharini Di Majalah Detik dan Tempo. Jurnal Scriptura Vol. 4, No. 1 – Juli 2014
Eliana, N. (2014). Jurnalisme Lingkungan: Upaya Memasukkan Isu Lingkungan ke dalam Agenda Media Massa di Indonesia. Makalah Universitas Indonesia, Jakarta
Eriyanto. (2002). Analisis Framing; Konstruksi. Ideologi dan Politik Media, Yogyakarta: LKIS.
Franco, Z. E. , Allison, S. T. , Kinsella, E. L. , Kohen, A. , Langdon, M. , & Zimbardo, P. G. (2016). Heroism research: A review of theories, methods, challenges, and trends. Journal of humanistic psychology, 58(4), 382-396.
HAKA. (2019). Diakses dari https://www. haka. or. id
Hamad, I. (2004). Konstruksi Realitas Politik dalam Media Massa: Sebuah Studi Critical Discourse Analysis terhadap berita-berita Politik. Jakarta: Granit.
Idris, S., & Tabrani ZA. (2017). Realitas Konsep Pendidikan Humanisme dalam Konteks Pendidikan Islam. Jurnal Edukasi: Jurnal Bimbingan Konseling, 3(1), 96–113. https://doi.org/10.22373/je.v3i1.1420
Kafashan, S. , Sparks, A. , Rotella, A. , & Barclay, P. (2016). Why heroism exists: Evolutionary perspectives on extreme helping. In Handbook of heroism and heroic leadership (pp. 58-79). Routledge.
Keating, M. (1993). Covering The En-vironment: A Handbook of Environmen-tal Journalism. The University of Western Ontario
Kurniasari, N. D. (2018). Perempuan Dan Isu Lingkungan (Analisis Pemberitaan di Media Nasional dan Lokal tahun 2014-2017). PALASTREN Jurnal Studi Gender, 10(1), 91-108.
Littlejohn, S. W. , & Foss, K. A. (2009). Encyclopedia of communication theory (Vol. 1). Sage.
Pan, Z. , & Kosicki, G. M. (2001). Framing as a strategic action in public deliberation. In Framing public life (pp. 51-82). Routledge.
Rademakers, L. (2004). Examining the handbooks on environmental journalism: A qualitative document analysis and response to the literature. Thesis, University of South Florida, America.
Rouhana, H. (2015). Feminism National Identity. Jurnal Ilmiah Peuradeun, 3(3), 353-362.
Verlo, M. (2015). Religion, Church, Intimate Citizenship and Gender Equality. Jurnal Ilmiah Peuradeun, 3(1), 55-76.
Yuniati, Y. , & Fardiah, D. (2017). Citra Caleg Perempuan dalam Framing Media Online. Mediator: Jurnal Komunikasi, 10(1), 75-86.
DOI:
http://dx.doi.org/10.22373/equality.v6i1.6198
Refbacks
There are currently no refbacks.
Copyright (c) 2020 Gender Equality: International Journal of Child and Gender Studies
This work is licensed under a
Creative Commons Attribution-ShareAlike 4.0 International License
.
Indexed By :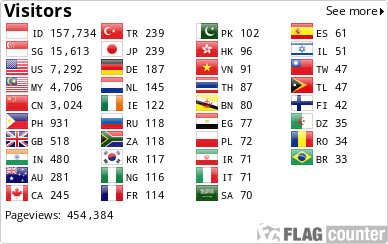 UNIQUE VISITS
Gender Equality: International Journal of Child and Gender Studies is licensed under a Creative Commons Attribution-ShareAlike 4.0 International License.