P-ISSN 2088-8813
E-ISSN 2579-5104
The Legitimasi Journal (the Journal of Criminal and Political Law) published biannually in January and July, is published by the Faculty Shariah and Law UIN Ar-Raniry Banda Aceh. Its purpose is to promote the study of criminal law and Islamic law in general and to discuss discourses of the development of criminal law and government policies in various perspectives. It is also to help in the understanding of criminal law and politic of law in Indonesia.
HOW TO SUBMIT PAPER?

The articles should be original, unpublished, and not in consideration for publication elsewhere at the time of submission to the Legitimasi Journal. Every submitted manuscript to the Legitimasi Journal must be written in Indonesian and follow the Author Guidelines. Please read author guidelines before submission and make sure that your manuscript is prepared using the Legitimasi  Template. If the manuscript does not meet the author guidelines or written in a different format, the article will be rejected. Only submitted manuscript that meets the Legitimasi Template will be processed further.

ONLINE SUBMISSIONS
1. Already have a Username or Password for legitimasi journal ? Please GO TO LOGIN
2. Need a Username/Password? GO TO REGISTRATION
Registration and login are required to submit items online and to check the status of current submissions.
If you have any specific questions, please do not hesitate to contact us at: legitimasi@ar-raniry.ac.id
Journal Secretariat:
Faculty Shariah and Law, Universitas Islam Negeri Ar-Raniry Banda Aceh, 23111 | E-mail: edi.yuhermansyah@ar-raniry.ac.id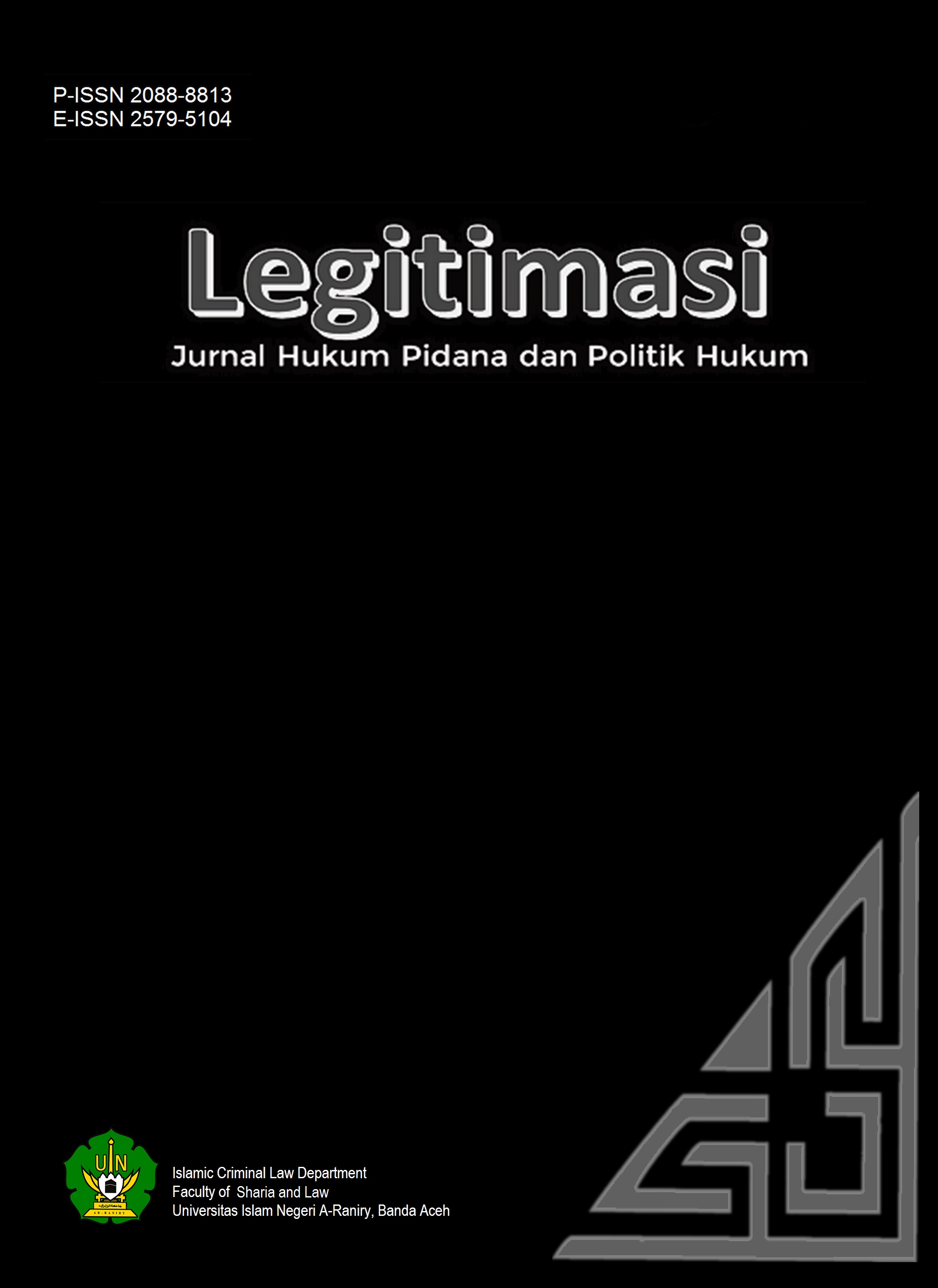 Announcements
CALL FOR PAPERS 2021

 
 

We would like to invite you to submit a research paper to be published in the Legitimasi Journal. The Legitimasi Journal welcomes research papers, literature reviews that have high-quality on topics of the Criminal of law (sharia) and law development, legislation, and social issues. Research papers must be written in Indonesian for initial review stage by editors and further review process by reviewer boards.

Deadlines for papers submission:

Vol. IX No. 1  2021, submission deadline: 15 March 2021

Vol. IX No. 2  2021, submission deadline: 15 July 2021

We believe in quality research work and for this our experienced team of editorial board will do blind peer review of every research paper to maintain the quality standard of every volume.

Looking forward to correspond with you.

This journal is focusing to publish research articles on Islamic law (sharia) and law development, legislation, and social issues. Publish twice in year, June and December.

 

Best regards

Legitimasi Journal Team

Posted: 2021-02-23
Vol 10, No 1 (2021)
Table of Contents
Articles
| | | |
| --- | --- | --- |
| | Syuhada Syuhada, Edi Yuhermansyah, Ulfa Yuranisa | 1-24 |
| | | |
| --- | --- | --- |
| | Sulfanwandi Sulfanwandi | 65-84 |
| | | |
| --- | --- | --- |
| | Rispalman Rispalman, Syahrizal Abbas, Desi Ariani | 109-128 |
| | | |
| --- | --- | --- |
| | Hasnul Arifin Melayu, Mohammad Zawawi Abubakar, Norruzeyati Che MohammadNasir | 129-149 |