P-ISSN 1411-2353 
E-ISSN 2579-5090
Media Syari'ah : Wahana Kajian Hukum Islam dan Pranata Sosial is a six-monthly journal published by Sharia and Law Faculty, Universitas Islam Negeri Ar-Raniry Banda Aceh. The journal is published since February 1999 (ISSN. 1411-2353) and earned accreditation in 2003 (Accreditation No. 34/Dikti/ Kep/2003) and E-ISSN 2579-5090 (No.0005.25795090/Jl.3.1/SK.ISSN/2017.04). Media Shariah has been indexed Google Scholar and another indexation is processing some.
The journal has been nationally accredited by the Ministry of Research, Technology, and Higher Education of the Republic of Indonesia, listed in the Science and Technology Index (SINTA) database. Since the 2019 publication, this journal has ranked with SINTA 3 (61,06), which means it has become one of Indonesia's premier law journals. The detailed information can be accessed here. Download the certificate here. Check this journal in the SINTA database here. 
Media Syari'ah envisioned as a forum for scholars on Islamic Law in Modern State, especially related topics with Islamic law as positive law, Islamic law as a living la, and unification and harmonization of law. This desire is marked by the publication of two languages, Indonesia and English.
Sharia and Law Faculty , Universitas Islam Negeri Ar-Raniry Banda Aceh, 23111 Email: mediasyariah@ar-raniry.ac.id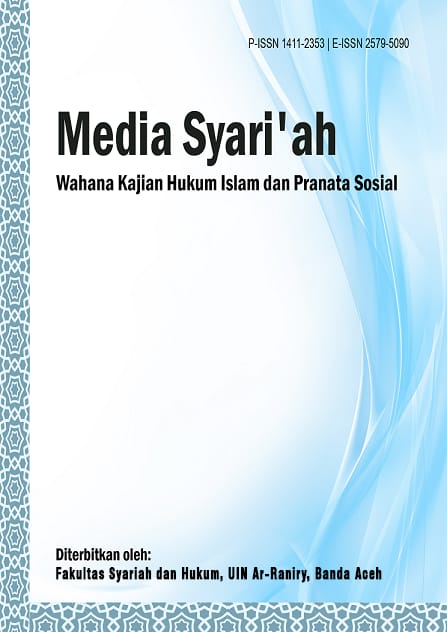 Announcements
CALL FOR PAPERS

We are now accepting original research paper for:

- Volume 23, Number 1, 2021. Deadline for submission as follows: 31 April 2021 for Issue 1.

- Volume 23, Number 2, 2021. Deadline for submission as follows: 31 Oktober 2021 for Issue 2.

The acceptance decision heavily depends on reviewers' recommendations. Please submit your article using our web system by creating your account HERE.

Posted: 2021-02-08
Vol 23, No 1 (2021)
Table of Contents
| | | |
| --- | --- | --- |
| | Alyasa' Abubakar, Ali Abubakar | 1-15 |
| | | |
| --- | --- | --- |
| | Muhammad Aziz Zakiruddin | 35-54 |
| | | |
| --- | --- | --- |
| | Hasnul Arifin Melayu, Rusjdi Ali Muhammad, MD Zawawi Abu Bakar, Ihdi Karim Makinara, Abdul Jalil Salam | 55-71 |
| | | |
| --- | --- | --- |
| | Agustin Hanapi, Mulyadi Mulyadi, Mursyid Djawas | 72-82 |
| | | |
| --- | --- | --- |
| | Karimuddin Karimuddin, Syahrizal Abbas, A. Hamid Sarong, Afrizal Afrizal | 83-95 |
| | | |
| --- | --- | --- |
| | Adlia Nur Zhafarina, Dian Juliarti Bantam | 96-108 |