Cyberspace Journal (e-ISSN: 2597-9671; p-ISSN: 2598-2079) is an open access, peer-reviewed journal that will consider any original scientific article that expands the field of information technology education and various other related applied computer sciences themes. The journal publishes articles of interest to Information technology teachers, researchers and practitioners. Manuscripts must be original and educationally interesting to the audience in the field. The goal is to promote concepts and ideas developed in this area of study by publishing relevant peer-reviewed scientific information and discussion. This will help information technology practitioners to advance their knowledge for greater benefit and output in their professional contexts.
Cyberspace Journal is nationally accredited by DIREKTUR JENDERAL PENGUATAN RISET DAN PENGEMBANGAN KEMENTERIAN RISET, TEKNOLOGI, DAN BADAN RISET DAN INOVASI NASIONAL (SINTA 4) from April 2020 to April 2025. Cyberspace is under the management of the Information Technology of Education Department.
Cyberspace Secretariate:
PTI administration office, Building B 1st Floor, Fakultas Tarbiyah dan Keguruan Universitas Islam Negeri Ar-Raniry Darussalam, Banda Aceh, 23111.

e-mail : jurnal.cyberspace@ar-raniry.ac.id 
Published by Center for Research and Community Service (LP2M) in cooperation with the Department of Information Technology, Faculty of Education and Teacher Training, Universitas Islam Negeri (UIN) Ar-Raniry Banda Aceh.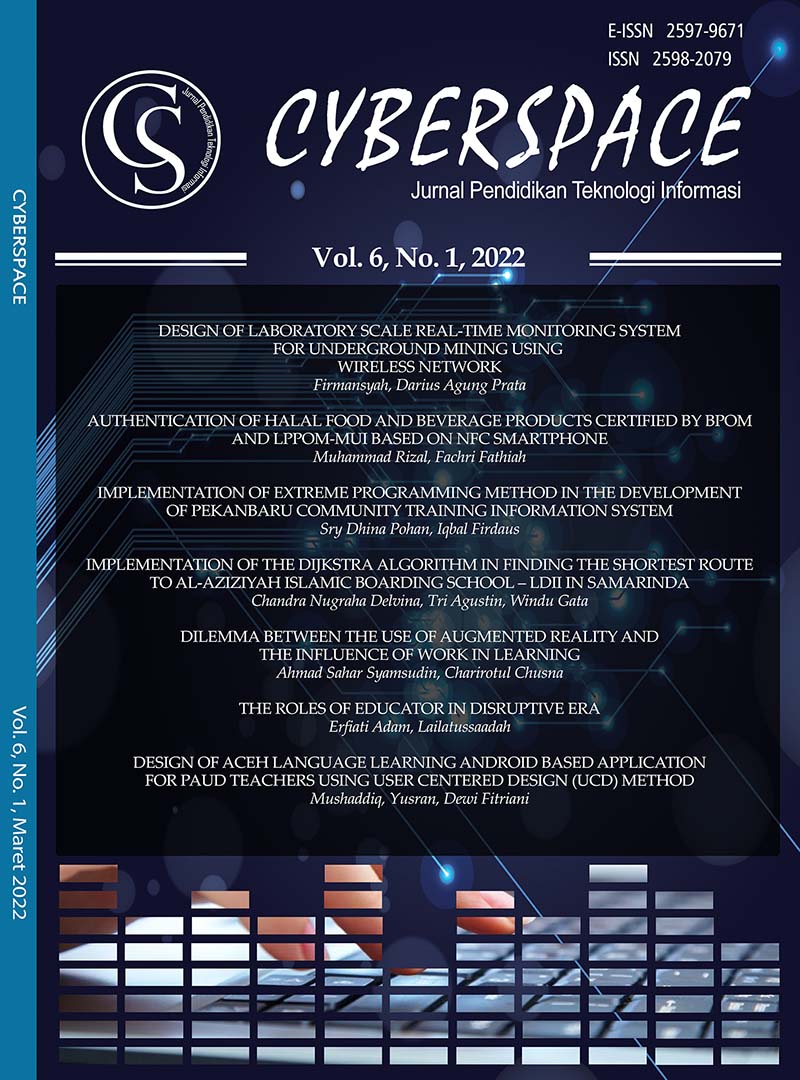 Announcements
No announcements have been published.
Vol 5, No 2 (2021)
Table of Contents
Articles
| | | |
| --- | --- | --- |
| | Dyan Yuliana, Okta Ayu Wulandari Putri | 81-96 |
| | | |
| --- | --- | --- |
| | Hijrah Hijrah, Rahmat Musfikar | 97-107 |
| | | |
| --- | --- | --- |
| | Iriene Surya Rajagukguk, Razni Mardahatilla Paknawan | 108-120 |
| | | |
| --- | --- | --- |
| | Basrul Abdul Majid, Hazrullah Hazrullah, Yulia Maulida | 121-128 |
| | | |
| --- | --- | --- |
| | Nurul Zaatsiyah, Djuniadi Djuniadi | 129-140 |
| | | |
| --- | --- | --- |
| | Khairan AR, Misa Rahma Yanti, Nazaruddin Ahmad | 141-156 |
| | | |
| --- | --- | --- |
| | Muhammad Arifin, Evangs Mailoa | 157-171 |