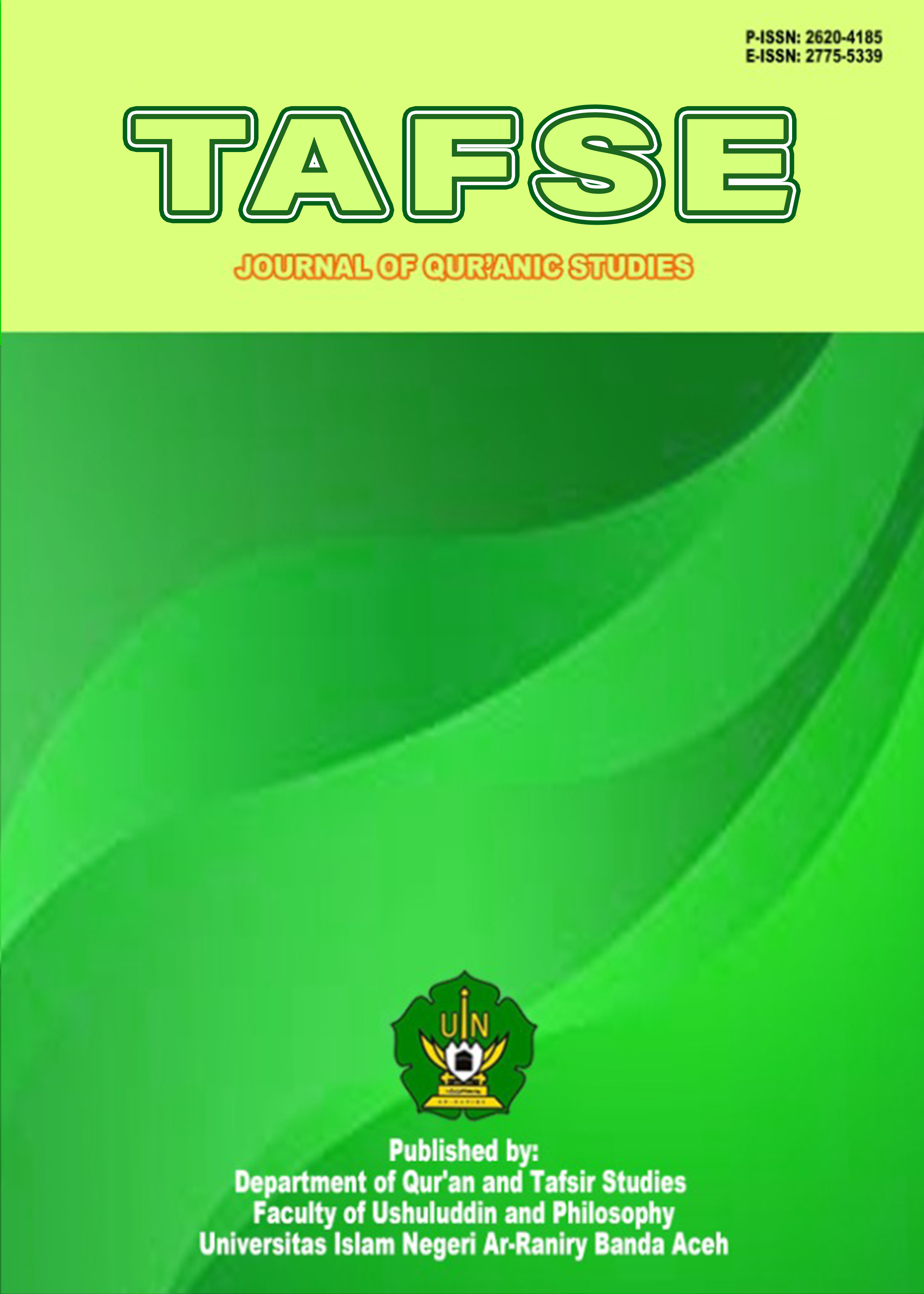 TAFSE: Journal of Qur'anic Studies is open access, peer-reviewed journal that is committed to the publications of any original research article in the fields of Al-Qur'an and Tafsir sciences, including the understanding of the text, literature studies, living Qur'an, and interdisciplinary studies in Alquran, and Tafsir. This journal has also collaborated with Asosiasi Ilmu Al-Qur'an & Tafsir se-Indonesia, Number: 01/JT/03/2022. 
Papers published in this journal were obtained from original research papers, which have not been submitted for other publications.
The journal aims to disseminate academic rigor to Quranic studies through new and original scholarly contributions and perspectives to the field.
Tafse: Journal of Qur'anic Studies DOES NOT CHARGE fees for any submission, article processing (APCs), and publication of the selected reviewed manuscripts. Journal subscription is also open to any individual without any subscription charges. All published manuscripts will be available for viewing and download from the journal portal for free.
We are pleased to inform you that our journal has been accredited by SINTA 3 in accordance with Decree No. 79/E/KPT/2023, May 11, 2023.
Announcements
No announcements have been published.
Vol 8, No 1 (2023)
Table of Contents
Articles
| | | |
| --- | --- | --- |
| | Fauzi Saleh, Ulil Azmi | 1-18 |
| | | |
| --- | --- | --- |
| | Muhammad Amin, Maula Sari | 19-33 |
| | | |
| --- | --- | --- |
| | Irfansyah Irfansyah, Khairunnisa Khairunnisa | 34-50 |
| | | |
| --- | --- | --- |
| | Abd. Wahid, Muhammad Shiddiq | 51-68 |
| | | |
| --- | --- | --- |
| | Misnawati Misnawati | 123-140 |