E-ISSN: 2549-0648 | P-ISSN: 2089-6239
SHARE Jurnal Ekonomi dan Keuangan Islam is presented as an effort to promote Islamic economics and finance knowledge to the world. Its establishment is aimed to be a scholarly journal with an international reputation. It is intended as a credible place for academicians and researchers across the globe to disseminate their works, studies, papers and other research formats. SHARE is published by the Faculty of Islamic Economics and Business, Universitas Islam Negeri Ar-Raniry Banda Aceh Indonesia. SHARE is published in open access format which enables readers to freely access and downloads the articles. SHARE has become a CrossRef Member since 2017, thus, each article published by the journal will have a unique DOI number.
SHARE Jurnal Ekonomi dan Keuangan Islam has achieved a second level Indonesian government journal accreditation (known as Sinta 2) with the Decree of Director General of Research Strengthening and Advancement, Ministry of Research, Technology and Higher Education No. 21/E/KPT/2018 from 9 July 2018 until 9 July 2023.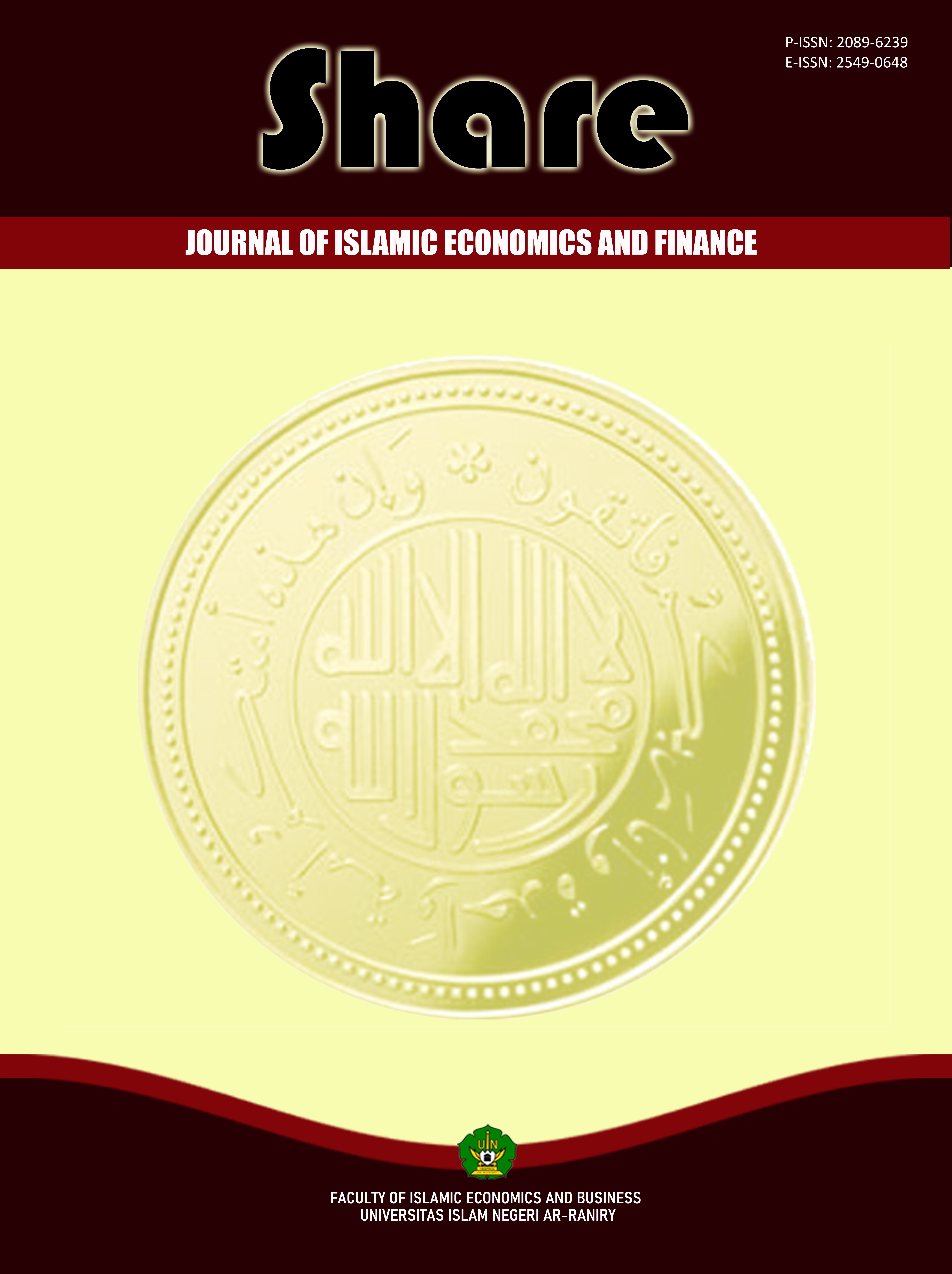 Announcements
CALL FOR PAPERS

We are accepting original research paper for Volume 9, Issue 1 & 2, 2020. Deadline for submission as follows: 30 April 2020 for Issue 1 and 31 October 2020 for Issue 2. The acceptance decision is heavily depends on reviewers' recommendations. Please submit your article using our web system by creating your account HERE.

Posted: 2020-02-05

LANGUAGE AND CHARGE

Starting from Vol. 7, No. 2, 2018 onward, SHARE: Journal of Islamic Economics and Finance will accept only ENGLISH manuscripts. In addition, to maintain the quality of journal and cover the publication cost, each article accepted to be published in this journal will be charged IDR 1,000,000 (for Indonesian authors). Further information regarding the payment, please refer to the page "CHARGES".
Posted: 2019-01-02
2020: ARTICLE IN PRESS
"Articles in Press" contains peer-reviewed and accepted articles to be published in SHARE Jurnal Ekonomi dan Keuangan Islam. When the final article is assigned to an issue of the journal, the "Article in Press" version will be removed from this section and will appear in the associated journal issue. Please be aware that "Articles in Press" do not have all bibliographic details available yet. There are three types of "Articles in Press":
Accepted Manuscripts: these are manuscripts that have been selected for publication. They have not been typeset and the text may change before final publication.
Uncorrected proofs: these are articles that are not yet finalized and that will be corrected by the authors. Therefore the text could change before final publication. Uncorrected proofs may be temporarily unavailable for production reasons.
Corrected proofs: these are articles containing the authors' corrections. The content of the article will usually remain unchanged, and possible further corrections are fairly minor. Typically the only difference with the finally-published article is that specific issue and page numbers have not yet been assigned.
Table of Contents
Articles
| | | |
| --- | --- | --- |
| | Rina Novi Yani, Muhammad Arfan, M. Shabri Abd. Majid | |
| | | |
| --- | --- | --- |
| | Zayyinatul Khusna, Syaiful Ali | |
| | | |
| --- | --- | --- |
| | Muhammad Dayyan, Rifyal Dahlawy Chalil | |