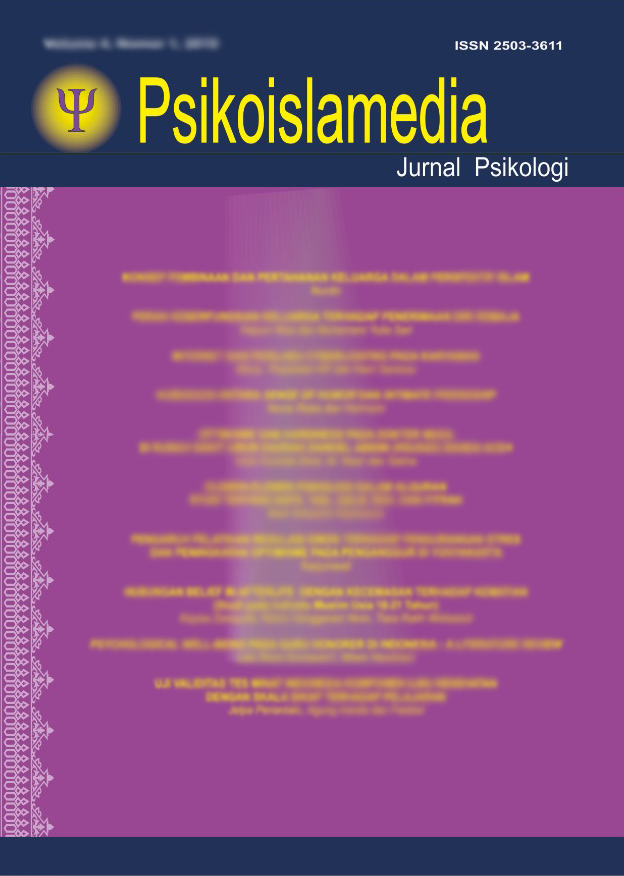 PSIKOISLAMEDIA Jurnal Psikologi (PJP) is a national, double-blind peer-reviewed, and open-access journal published by the Psychology Faculty of Ar Raniry Islamic State University in Indonesia. PJP was first published in April 2016 with the aim of contributing to the development of psychology knowledge by publishing high-quality psychology articles. The journal focuses on Islamic psychology but also welcomes research in other fields of psychology, including Educational Psychology, Clinical Psychology, Industrial and Organizational Psychology, and Disaster Psychology.
PJP provides an academic platform for professionals, researchers, academics, and students, both nationally and internationally, to publish their work. The journal accepts original, unpublished, and full-length articles that reflect the latest research, expert opinions, and review papers on the development of concepts in both theoretical and practical aspects of psychology.
Announcements
CALL FOR PAPER

Dear Colleagues,

On behalf of Psikoislamedia Jurnal Psikologi, it is our pleasure to thank you for your support for our journal.

Currently, the journal is now open for submission. We invite you to submit articles on topics that are part of the journal's editorial calendar as well as additional topics of interest to our journals.

The journal is published bi-annually (April and October). In April, 10 Articles for the April edition and 10 Articles for October

 

ImportantDates


Manuscript Submission Now
Manuscript Review Feedback January - March  for April Edition,
August - September  for October Edition

Manuscript Publication online in April  and October

Please submit your paper in MS Word format by only the online submission process by following our template

We will highly appreciate your kind helps to circulate this announcement to your related academic circles.

Regards Us,

 

Psikoislamedia Jurnal Psikologi

Posted: 2022-06-29
More...
Vol 8, No 2 (2023): PSIKOISLAMEDIA:JURNAL PSIKOLOGI
Table of Contents
Articles
| | | |
| --- | --- | --- |
| | Cindy Jacop, Zamralita Zamralita, Tetty Rismiyati, Achmad Khalid Alfajar Ardjuna | |
| | | |
| --- | --- | --- |
| | Fatimah - Ibda, Noor Azniza Binti Ishak, Mohd Azrin Bin Mohd. Nasir | |
| | | |
| --- | --- | --- |
| | Maria Ulfa Hasballah, Barmawi Barmawi, Kway Eng Hock | |
| | | |
| --- | --- | --- |
| | Ike Gustia Ariska, Sus Budiharto | |
| | | |
| --- | --- | --- |
| | Intan Islamia, Nurul Nevi Yanti, Irna Kartina | |
| | | |
| --- | --- | --- |
| | Adinda Tasya Kamila, Muhammad Novvaliant Filsuf Tasaufi | |
| | | |
| --- | --- | --- |
| | Fikri Fikri, Lusy Marianti, Ahmad Hidayat | |
| | | |
| --- | --- | --- |
| | Juli Andriyani, Mira Fauziah | |
| | | |
| --- | --- | --- |
| | Hasanuddin Hasanuddin, Fikriyah Iftinan Fauzi, Muhammad Abrar Parinduri | |